With ongoing advancements in technologies such as artificial intelligence and communication networks, new infrastructure has become a hot topic globally, especially across less-developed regions. Eager to modernize their societies and weather difficulties such as the ongoing global pandemic, governments from developing countries are pushing for investment in infrastructure technology and digital transformation of their labor-intensive industries.
Sir Danny Alexander, vice president of the Asian Infrastructure Investment Bank (AIIB), and Leslie Maasdorp, vice president and chief financial officer of the New Development Bank (NDB), discussed the vital role of technology investment in economic development at the BEYOND Expo 2022 tech conference, held online in the BEYOND Metaverse. 
The discussion also echoed this year's UN climate summit where developed nations agreed to help provide funds to poor countries in compensation for loss and damage by climate change. The speakers also shed light on some of the challenges bankers face when bridging the technology gap. 
The text below has been condensed and edited for clarity.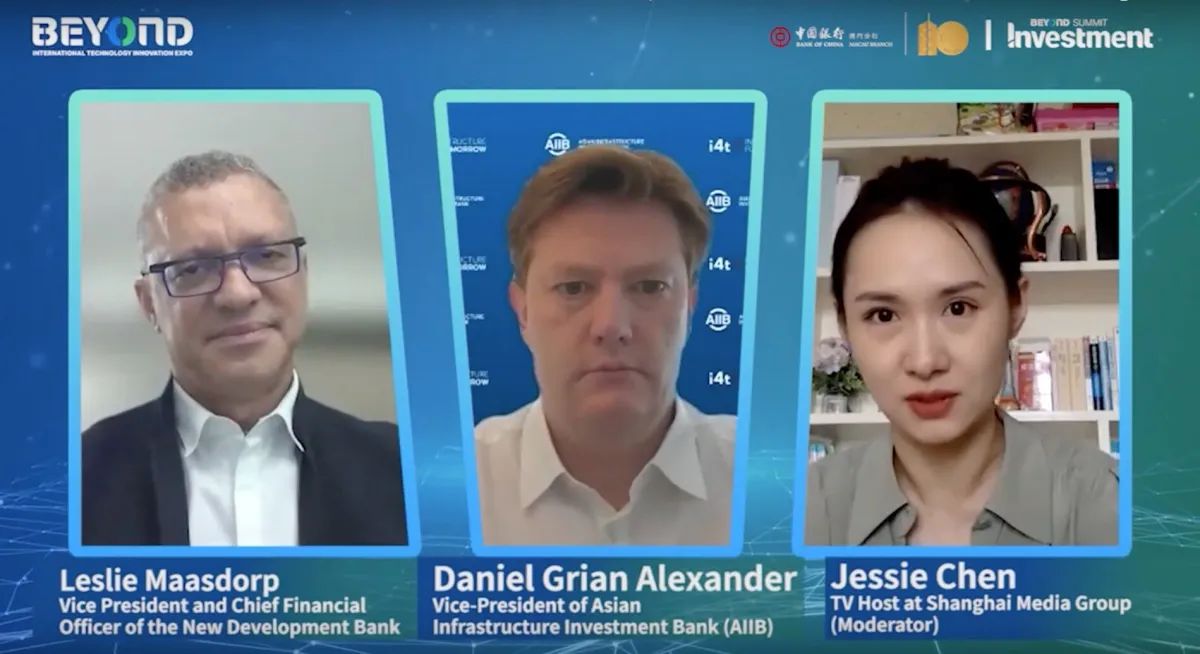 Sir Danny Alexander, vice president of the Asian Infrastructure Investment Bank (AIIB)
Technology has changed infrastructure investment in many different ways, and the application of technology to traditional infrastructure is critical to how we affect social and economic transformations. To start with, technology creates demand for new types of infrastructure, like data centers, 5G networks, telecommunications grids, and so forth. Then, these new infrastructures also help to upgrade existing infrastructure. For example, turning a grid into a smart grid, turning a city into a smart city, and so on.
Thinking through those infrastructure needs is a critical issue. In Asia, we've seen huge digital divides, such as cities and countries with highly developed digital infrastructure and vice versa, causing economic changes and accentuating differences. So, part of our strategy has to be how we can help those on the wrong side of digital divides with investments to help them improve or, in many cases, leapfrog directly to the most modern technology. That means you have to focus on the end users and the outcomes.
This also creates opportunities for better efficiency and greater transparency to enable infrastructure projects to work more effectively and manage better for maintenance costs. Roads and bridges are always needed unless we take them to the air sometimes, but technology changes those roads and bridges. It changes the way that you operate, construct and maintain them. It changes the types of vehicles you can use on them, the roads with sensors built to monitor the traffic, and the electric charger built to enable new energy vehicles.
So technology actually affects every aspect of infrastructure development. That's what's referred to when we talk about infrastructure tech, which is really at the center of the political agenda, given all the challenges we're facing today, such as the need for governments to bridge infrastructure financing gaps with less spending. Infra tech actually offers a supply-side solution. It helps us to manage the maintenance costs much more effectively and get much greater spin-off benefits for other aspects of society.
Enabling new technologies to be transferred, adopted, and localized quickly is a critical part of ensuring that developing countries have the opportunities to develop at the pace they need. There are still huge issues of basic access to power and affordability in these countries. We should operate in a way that it shouldn't be a choice between do you develop your economy or do you transition your energy system, but find a way for the two to go forward together and, ideally, to reinforce each other.
Leslie Maasdorp, vice president and chief financial officer of the New Development Bank (NDB)
Multilateral banks have a unique, critical role to play in the transition to net zero carbon emissions and draw on the best of what new technologies offer to reboot infrastructure throughout emerging markets.
Every sector, whether it be energy, transport, or logistics, is undergoing significant changes in respective business models. What we are trying to do is to be a catalyst for the changes that require significant investments. For example, I come from South Africa, where the energy grid is more than 88% based on coal-fired power stations. We have to build new energy infrastructure but at the same time have a more appropriate mix in terms of renewable energy sources, whether it be wind, solar, and so on.
Technology is probably the most exciting element of an infrastructure investment today because we are moving away from business-as-usual models. And yet, the demand for new sustainable infrastructure in emerging markets is distinctly different from that of developed countries to a degree. Many developing countries have a historical disadvantage. Let's take Africa, for example. Large parts of Africa do not have access to electricity, and only around 35% of the continent has access to sustainable energy resources. Carbon emissions are not at the front and center of consciousness.
Therefore, asking a country that is poorly endowed with solar investment resources or wind power not to use the coal that they have, we have to put appropriate incentives in place to ensure that we enable these countries to move on to this higher technological and more sustainable development model. It is important that we ensure sort of an equitable transition and recognize that different countries come with different historical endowments.
The energy sector is an area with significant scope for us to mobilize large volumes of private-sector capital. Over the last few years, we have no longer been focusing on financing projects and growing our balance sheets but using our funding in a catalytic way to bring more capital from the private sector into renewable energy industries. Most of the investments in new energy are not done by state enterprises or governments but are indeed done by the private sector.
NDB has a couple of offshore wind projects in China's eastern Fujian province and hydro and solar projects in many of our member countries. We are now focusing on increasing the size and scope of our private sector operations and working much more closely with the private sector regarding these kinds of new energy infrastructures.